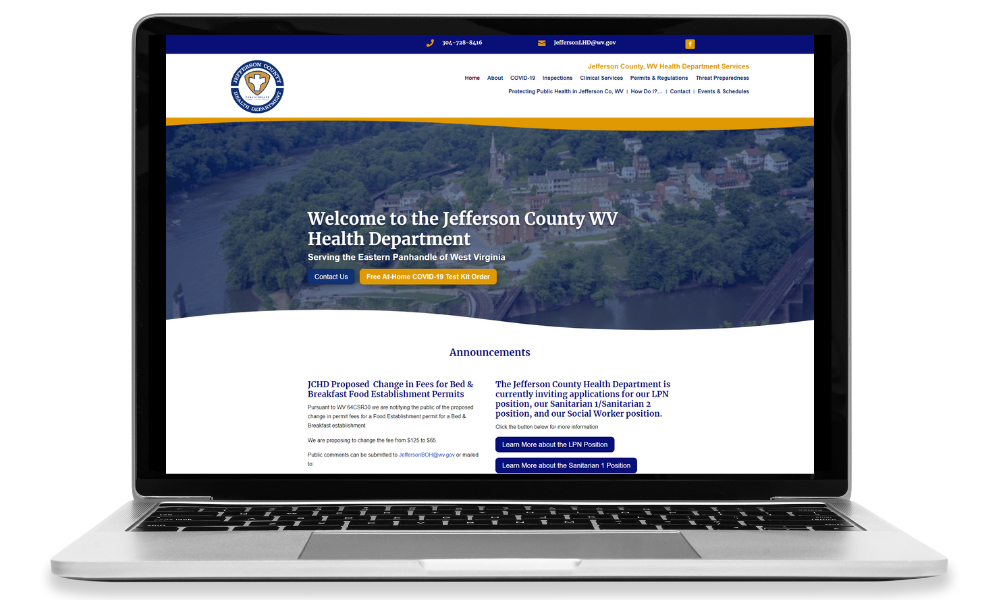 Client Profile:
Jefferson County (WV) Health Department
About the Client
The Jefferson County Health Department manages all aspects of health communication for Jefferson County, WV, a large county of almost 60,000 people (and growing fast) in WV's Eastern Panhandle.
Overview of the Project
We initially worked with the JCHD through a partnership with a local marketing person, but continued doing support after that initial launch. 
The needs for the website evolved quickly with the COVID-19 pandemic. We worked with them to create vaccination-request forms when the phones became overwhelming; this was effective in offloading the requests to the forms and to free up their staff to help manage the vaccinations.
We recently worked with an intern to do a bit of a restructure and streamline on the site. Many of the resources that used to be printable forms are now available on other websites, so instead of having so many on-site documents we now have more links to those external resources.
This site sees tremendous traffic, with almost 35,000 pageviews so far this year. The staff are trained to update the content as needed, and add content to the Home and other pages often. It's worked well for them for several years, and will continue to do so.