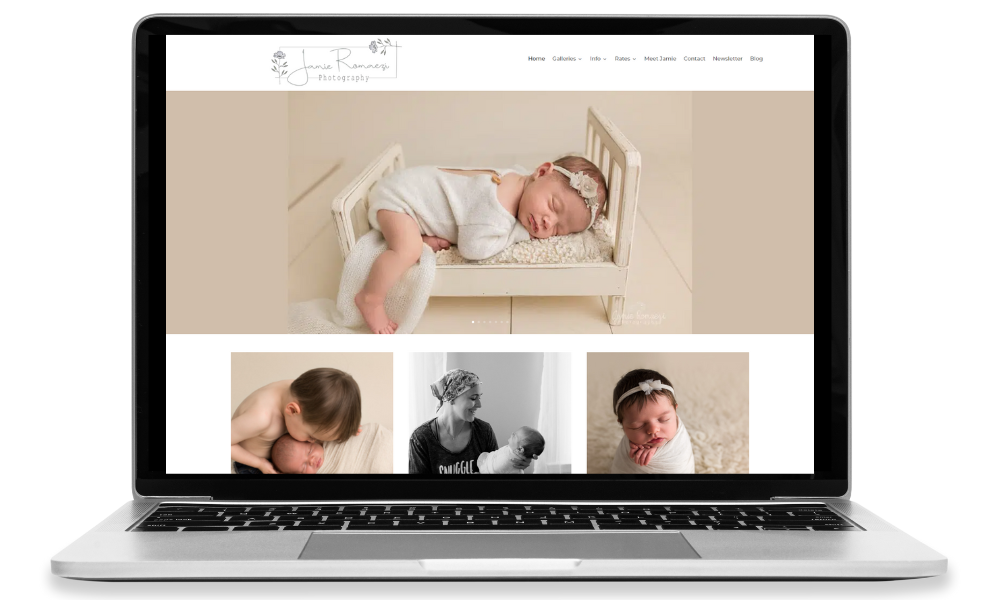 Client Profile:
Jamie Romaezi Photography
About the Client
Jamie Romaezi is a wonderfully talented photographer based in Northern Virginia, specializing in family and baby photography.
Overview of the Project
Jamie's website was both on WordPress.com, and aging, and needed to be moved over to a self-hosted WordPress website. She needed more flexibility in terms of features and plugins and wanted greater control over her website.
The site was enormous! There were a large number of blogs and sizeable images in the old site's content. We successfully migrated the content from WordPress.com into a self-hosted WordPress instance, and styled the site to look as much like the old one as possible (since Jamie loved the look, just not the stability of the old site).
Since this retheme, Jamie underwent a branding update with a new logo and design touches that were lovely and minimalist – she prefers to let her photographs do the talking on her site. We loaded the the logo, custom fonts for the headings, and altered the colors per Jamie's specifications. The site is now updated to reflect that new branding and looks exactly as Jamie wants it.
Jamie says:
Vinebuzz was wonderful to work with! Liesl migrated an old and very large site, and made it beautiful again! I'm already seeing better conversion and it's only been live for about 2 weeks.