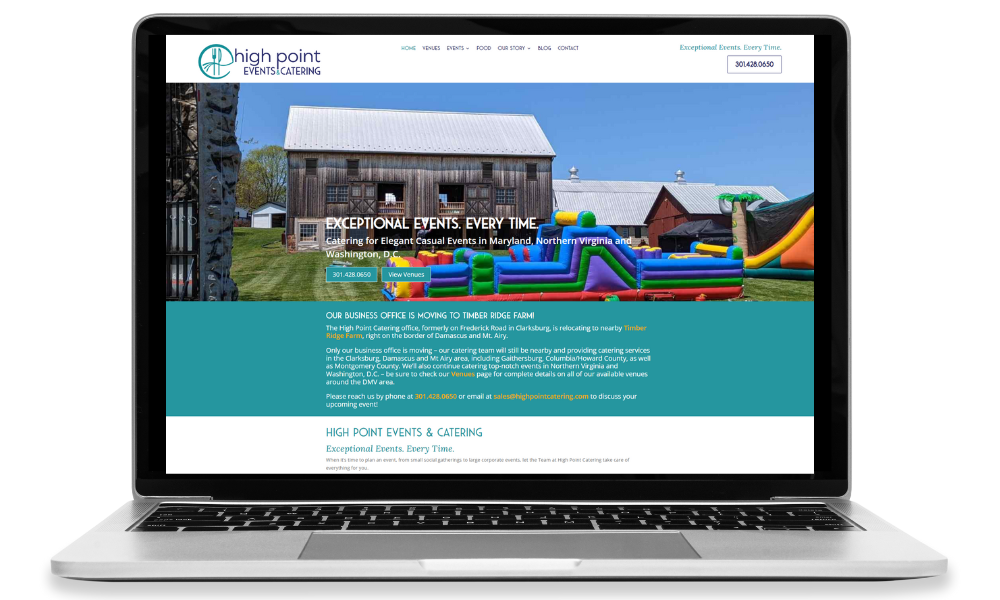 Client Profile:
High Point Catering
About the Client
High Point Catering is one of the largest catering and event planning companies in Montgomery County, MD. 
Overview of the Project
Liesl was initially engaged to partner with a colleague at Nusvara to write content for the website. They'd had a change in staffing and in their direction for the company, and needed their website content to reflect that. We wrote the new content and an SEO program was launched through Nusvara.
Over time, we developed issues with the old site build, and ultimately decided that a retheme was necessary. We did a rebuilt of the website in the Divi theme, recreating much of the look and feel. The site is infinitely more manageable now and easier to update, and has new tools to present their many galleries of event images.
Next, to boost their SEO we decided to take each of their 30+ venues onto individual venue pages. We created an filter-able venues page to show all of the possiblities – each tile leads to a beautiful new page for that location with a map, the address, and some details about the venue. This has helped potential customers to see the locations in one place and to drill down into the details for the venues that are most likely to fit their needs. High Point reports that they are getting more calls than ever as a result of this work.
Most recently, we've worked together with the SEO team to alter the location of the facility, as they are moving to one of their premium venues not far from the old location. This involved scrubbing all location information and making edits without doing harm to their geographic  SEO.
Owner Bob Egan says:
We have work(ed) with VineBuzz for over the past 18 months. Our web design plans got destroyed by the Covid-19 impact on our industry. The website company we had chosen originally went out of business and our website was a mess in terms of content, format and SEO efforts. Liesl was able to reorganize and present our content in record time with results that really showed up quickly. This is such a easy review to write and I am glad to be able to say so many nice things about VineBuzz.