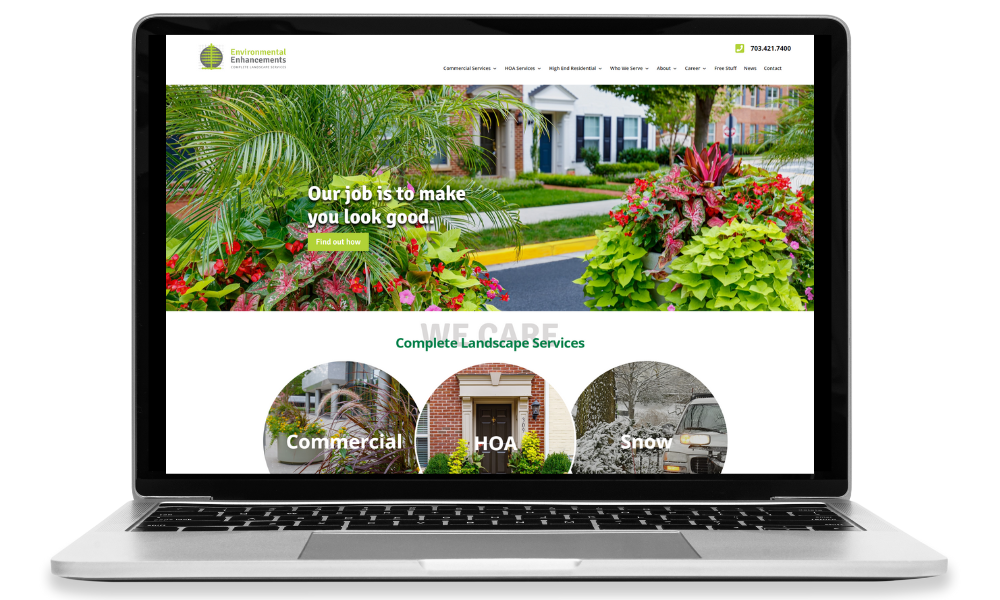 Client Profile: Environmental Enhancements Landscaping

About the Client
Environmental Enhancements Landscaping is a tremendously successful landscape firm in Sterling, Virginia that wanted to upgrade their old website to reflect the superior level of award-winning service they provide to their clients.
Overview of the Project
EEL has a talented marketing person, Mary Follin, who manages their marketing programs, e-newsletters, web content, etc. Mary worked closely with Dorothy Banzon Design to create this stunning and completely custom website design, and VineBUZZ Web was engaged to build the website. (We'd been working with EEL to support the old web site for several years).
Mary's Google Review of VineBUZZ web says:
Having worked with multiple website developers, I can honestly say that VineBUZZ far exceeds any of my past experiences. Quick to respond, highly knowledgeable about website development, and extremely collaborative with the design/marketing team, Liesl WANTS you to succeed. I highly recommend her services!
The custom design files were delivered to our team, and we built all of the components to match that design. The site has incredible photography, a large number of service pages, calls to action that are well-placed all around the site, and downloadable documents for every type of audience from residential to HOA to commercial.
Almost every element of the site has a custom touch, from icons that were designed just for the website to custom covers for the downloadable PDFs.
We are honored to work with EEL and to continue to enhance their website with new features, service pages, blogs, and more.