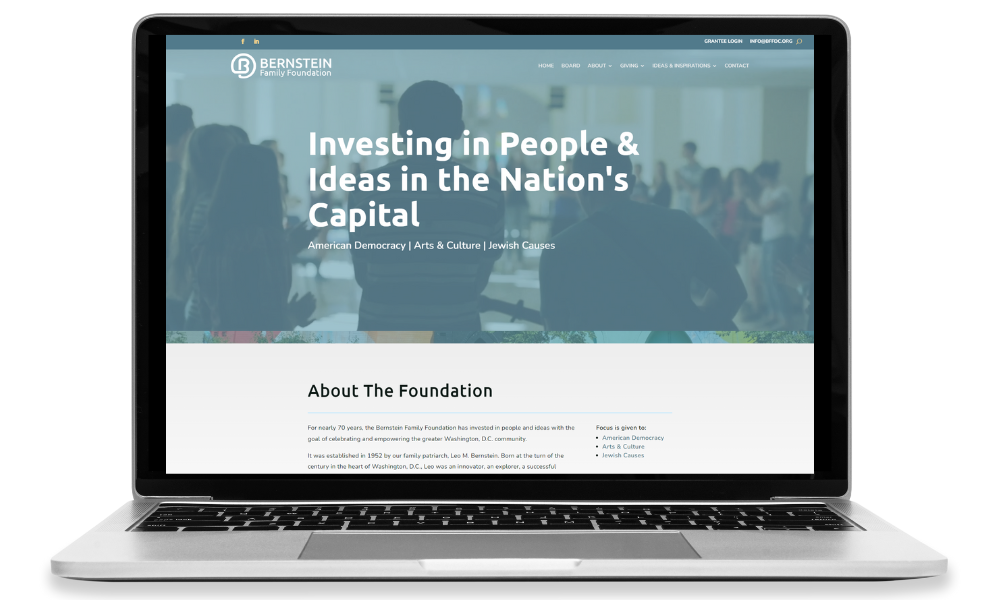 Client Profile:
Bernstein Family Foundation
About the Client
For nearly 70 years, the Bernstein Family Foundation has invested in people and ideas with the goal of celebrating and empowering the greater Washington, D.C. community. 
Overview of the Project
We were brought in to consult on the project both for marketing direction and to assist with the build of the Foundation's new website.
This was truly a collaborative effort between the Executive Director of the Foundation, Ami Becker Aronson, a designer that she'd engaged, and VineBUZZ Web. Liesl suggested a format and general design direction for the site, then the designer created the unique, inviting presentation you see on the website using a color palette both borrowed from the old website and edited by Ami.  Since the designer was hired for a short-term assignment primarily for the site look and feel, VBW took over and made design tweaks and completed the site build. This collaborative effort resulted in a lovely website that has nods to their Jewish heritage and the rich history of the organization.
Ami's Google review says:
Liesl is a high functioning professional who delivers on her promise. She truly has a command of marketing, communications, brand development, web design and business savvy. She is thoughtful, authentic and adaptive to the work environment. She is creative and responsive to my needs lets keeps us on task and time. I look forward to working with her for years to come and trust her role in our foundation advancement.